My mission:
Solve medical mysteries that have gone
undiagnosed or misdiagnosed for years.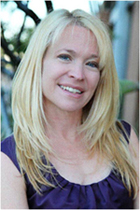 Hi there.
I'm Dr. Karen.  I know you are here because you or a woman you know is suffering with health issues like pain, fatigue, sleepless nights or a long list of symptoms.
Many of you have been to practitioners and used their therapies with no results or have had a doctor tell you that it's all in your head or you have to learn to live with it.  I know this leaves you feeling frustrated, alone and afraid.
I can help you figure out what's wrong!  You can have real answers and real health!  I do personalized medicine and I have a system that pinpoints the cause of your health issues.  Together we create a customized treatment program that addresses your physical, nutritional, and emotional needs.  You will have less pain, more energy, clarity, better sleep, and enjoy doing the thing you love.
You CAN get your life back and look forward to your future!
I am a member of the International Chiropractic Pediatric Association (ICPA) and have been in practice for 25 years.  90% of what I do is in addition to basic chiropractic education.  I've taken extensive post graduate educational training in Applied Kinesiology, Pediatrics, Craniosacral Therapy, Nutrition, Functional Medicine, Acupuncture, Cold Laser, and other varied topics.
When you come to see me the 1st time, we will spend an hour reviewing your symptoms and Applied Kinesiology to see what physical, nutritional, and/or emotional needs are causing your health issues. Based on those findings, we will create a treatment plan and follow-up visits.
Unlike other chiropractors, when you come to see me for follow-up visits, we will spend a half hour 1 on 1 healing your body based on what your body needs.  If your body tells us it will benefit from an adjustment, then I will gently adjust you specifically where you need it.  If your body tells us you need nutrition then through applied kinesiology we will determine what you need and how much for optimal results.  If your body has an emotional blockage then I can help you determine exactly what that is.  Through my NET training, I can help you release emotional blockages that are affecting your physical body.
FAQ's
How much will this cost?
The cost for the first visit is $195 and $130 for each 30-minute follow-up visit.
Can I use my HSA card?
Yes, we do accept HSA as well as all major credit cards.
Do you accept my insurance?
If you have chiropractic coverage, we will gladly provide you with the necessary documentation to get reimbursed by your insurance company.  You will need to contact your insurance company to find out what their process is for reimbursement.
Please contact us with any other questions you might have.